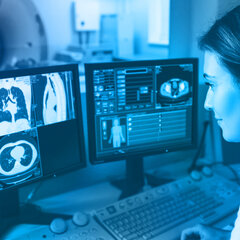 Daniel Mahony
Co-head of Healthcare

Gareth Powell
Co-head of Healthcare
After eight months of hope, we have seen a plethora of coronavirus vaccine announcements, from Pfizer and BioNTech, Oxford University and AstraZeneca, Moderna, and Sputnik (from Russia, unsurprisingly). During completed trials, each vaccine offered a reduction in the number of infections in vaccinated individuals compared to a control group, with the best showing 95% efficacy.
This news is well ahead of expectations and probably a best-case scenario result. However, as positive as these numbers are, we still need to see safety data as well as data on different subsets of the population, especially for those aged 65+. The longer-term safety data and how long the vaccine offers protection will take time to produce – the latter is particularly important when it comes to public health and the mechanics of a mass vaccination programme.
Having said that, at this point in time everything looks positive and we think the first of these should be able to file for an Emergency Use Authorisation within the next two weeks, with an approval coming in December. Given the data from the studies we have already heard from, we are hopeful that we may have many approved vaccines to protect against COVID-19.
Market expectations have risen significantly with the hope of a mass vaccination programme getting underway very soon. The rollout will depend on supply, with the first doses prioritised for healthcare workers and people thought to be at high risk – the elderly and those with underlying health conditions. There is also the issue of whether people will be willing to take the vaccine, something we feel depends in large part on the data, both safety and efficacy. Considering the positive news, in theory the number willing to take a vaccine will have increased. The logistics of delivering a vaccine to millions of people becomes the next challenge when there is more product available for the whole population.
Even with rapid progress on the manufacturing and logistics front, we would suggest that a mass vaccination programme is unlikely to complete before the second half of 2021.
While vaccines are the near- term focus…over the next 5-10 years, we expect to see significant government, philanthropic and private investment in the sector.
While vaccines are the near-term focus, we think it is important to consider the mid-term impact of COVID-19 on the life sciences sector. Over the next 5-10 years, we expect to see significant government, philanthropic and private investment in the sector. Key drivers include funding for better medical preparedness and research to prevent the next health crisis. In particular, we expect to see a greater focus on infectious disease and areas such as new drugs to treat drug-resistant bacteria.
With the US still far and away the largest market for healthcare, US politics has an important impact on the sector and this year has been no exception. As it stands, it looks as though we will have a divided government with Democrat Joe Biden as President and the Republicans set to keep control of the Senate. This is probably one of the better outcomes for the healthcare sector and it now seems unlikely that we will have any broad sweeping legislative changes, which removes an overhang for most healthcare subsectors.
Turning to the valuation of the broader healthcare sector, its relative P/E is now at a 30-year low. This is not just from the impact on pharma stocks, which now comprise just under 50% of the index, as we think the valuation reflects the concern that a Democratic Sweep could have led to wide-ranging healthcare reform…again. A divided Congress now makes this unlikely and, as a result, in our view healthcare looks cheap.
Another reason we are positive on healthcare is its growth outlook. If we look at earnings growth projections for healthcare versus the broader market over a 15-year period, the healthcare sector has delivered positive earnings growth in every year since the financial crisis.
Healthcare's growth outlook compared to the market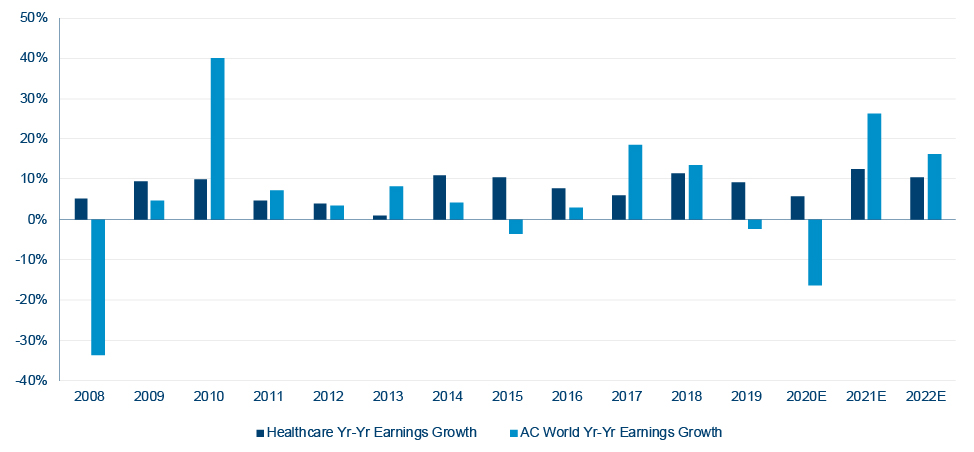 Source: Citi Research, 30 October 2020.
We expect the rate of earnings growth to fall this year, but the impact on the broader market will be far greater. Moreover, on an annualised basis, healthcare has had a superior growth rate to the broader market. It continues to be a sector of steady resilient growth driven by underlying fundamentals, not least an ageing population across the world that needs and demands better healthcare.
That said, investing in the healthcare sector is not as simple as buying a few large-cap stocks and holding them for the long term. We are seeing considerable innovation and disruption across the sector, which we think requires active management.
As a team, we remain positive on the outlook for healthcare for several reasons, including:
(1) with the election results in the US, healthcare investors have better clarity and certainty over the outlook in the mid-term for the sector; (2) expanded healthcare coverage should now occur which will be a positive for the sector; and, (3) while healthcare disruption has been a driver that we have highlighted for some time, COVID-19 has accelerated the greater need for efficiency.
COVID-19 is responsible for many things during 2020, one of which is forcing consumers to demand up-to-date, modern-day healthcare provision. So, for all these reasons and more, change is coming, bringing with it plenty of opportunities for healthcare investors across the market-cap spectrum.